CNC Machine Market Size
With a CAGR of roughly 10.4% between 2023 and 2030, the global CNC machine market is expected to grow from its projected value of $61 billion in 2022 to $133 billion by the end of 2030.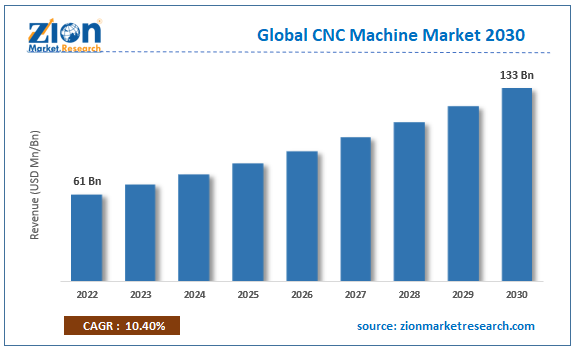 CNC Machine Market Overview
CNC machines, short for computer numerical control, are increasingly common in the industrial sector as a means of automating the management of tool and machine motion. The machining processes on these machines are accurately controlled by computer systems and software.
Manufacturing, aerospace, automotive, metalworking, woodworking, and other industries all make extensive use of CNC machines. High precision, reproducibility, efficiency, and the capacity to manufacture complicated parts and components with little to no human intervention are just a few of the benefits they provide. Milling, turning, drilling, grinding, laser cutting, 3D printing, and additive manufacturing are just few of the many uses for computer numerical control (CNC) devices. The precise purpose and requirements of a certain CNC machine determine its make and model.
Download Free Sample: https://www.zionmarketresearch.com/sample/cnc-machine-market
CNC Machine Market Segment Analysis
In terms of type segment in 2022, CNC lathe machines held more than 28.0% of the market. Demand from the automotive industry is expected to rise, which will contribute to the segment growth of CNC lathe machines. The requirement to produce unique components, such as cylinder heads, gearboxes, starting motors, and prototypes, is driving this need. New CNC lathe technology is also likely to help the sector. Positive segment growth is forecasted to result from the introduction of new features to serve a variety of applications.
The demand for CNC milling machines is anticipated to grow at the fastest rate (almost 12.0% CAGR) throughout the forecast period. Factors such as the increased priority placed on industrial automation and technological breakthroughs have contributed to the worldwide demand for milling machines. With the advent of Industry 4.0 and the incorporation of cutting-edge technologies like as AI, ML, and robotics, milling machines have been upgraded to the level of becoming smart, efficient, and capable of doing complex jobs. The use of fewer humans in the production process leads to higher output, greater precision, and more efficient coordination of individual tasks.
The global CNC machine market is segmented as follows:
By Type
Metal Forming
 Metal Cutting
By Application
Transport Machinery
Automotive
Precision Engineering
General Machinery
CNC Machine Market: Competitive Space
The global CNC machine market profiles key players such as:
AMADA MACHINERY CO. LTD.
DMG MORI CO. LTD.
Amera Seiki
FANUC CORPORATION
Shenyang Machine Tool Part Co. Ltd.
YAMAZAKI MAZAK CORPORATION
General Technology Group Dalian Machine Tool Corporation
OKUMA Corporation
Hurco Companies Inc.
Haas Automation Inc.
DATRON AG
Read Also: Online Voting  Market Size, Growth & Demand 2023-2030
CNC Machine Market Regional Analysis
Asia-Pacific, which accounted for 65% of CNC machine market revenue in 2022, will dominate the forecasted period. Regional market growth in 2023–2030 may be due to a widespread preference for precision tools to reduce lead time. Additionally, the rise in CNC machine production in the automotive, aerospace, medical, and semiconductor sectors will drive regional market demand.
The North American CNC machine industry is expected to grow at the quickest CAGR because to the increased adoption of innovative automotive technology in nations like the U.S. The subcontinent's metalworking industry will increase as CNC machines become more popular.
By Region
North America
Europe

France
The UK
Spain
Germany
Italy
Rest of Europe

Asia Pacific

China
Japan
India
South Korea
Southeast Asia
Rest of Asia Pacific

Latin America

Brazil
Mexico
Rest of Latin America

Middle East & Africa

GCC
South Africa
Rest of Middle East & Africa
Read More From Our Blog
Track Dumper Market Size Overview 2023-2030
E-Cigarette Market Size And Industry Analysis 2023
Global Nanorobotics Market Size Analysis 2023-2030
Healthcare Cloud Infrastructure Market Size Analysis 2023-2030