Online Voting  Market Size
At a CAGR of nearly 9.5% between 2023 and 2030, the global market for online voting systems is expected to expand from a value of around USD 301 million in 2022 to about USD 622 million by 2030.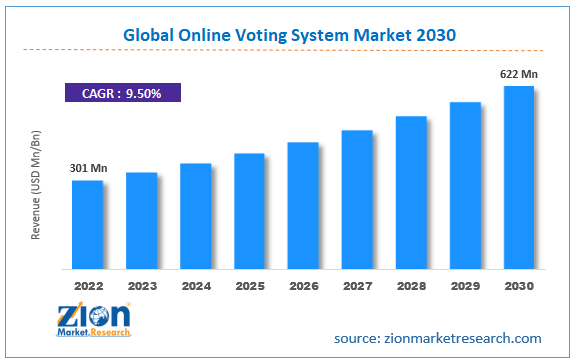 A secure online voting system is based on a robust coding framework. Electronic voting eliminates the need for physical ballots and ballot boxes. In addition, several providers of secure voting platforms also provide advisory services to help businesses develop and administer their voting policies.
One factor driving the expansion of the globally online voting system market is the rising popularity of voting through mobile device. The convenience of online voting systems for tallying votes and accommodating voters with disabilities is driving industry growth. However, the expansion of the online voting system market is anticipated to be hampered by people's lack of knowledge about voting software and rising security concerns associated with online voting. However, over the projection period, the online voting system market is likely to benefit from the rise in government adoption of new technologies and the implementation of effective government policies.
The Potential of the Online Voting System Industry
Better voting procedures that require less infrastructure present a significant business potential.
There is less demand for resources and less human labor because there is no need for physical infrastructure like printing ballots, setting up polling stations, and assigning personnel. The industry is expected to usher in new possibilities for online voting as well as new classes of alternative technologies. Effectiveness, precision, and voter participation in online voting techniques are all improved over paper ballots. Increases in internet usage and worldwide urbanization, as well as other factors connected to voting systems, such as easy accessibility and the development of smart devices, are fueling the expansion of the market for online voting systems. Many organizations are also relying on technological advancements to streamline and enhance the voting procedure. In October 2021, for instance, IBM and the YMCA of Greater Los Angeles teamed up to bring cutting-edge technological solutions to underserved regions in order to educate and equip the electorate. The rising need for electronic voting systems is prompting businesses to develop strategies that would allow them to function with less costly infrastructure during the epidemic.
Offering, Deployment Model, and End-user are the three primary segments used to classify the online voting system market.
Offering, deployment model, end user, and geography are the primary dividing lines in the worldwide market for online voting systems. Solution and service are the two primary components. Separate categories exist for "on-premises" and "cloud" deployment. It is divided into three categories based on who will be using it: the government, educational institutions, and businesses. Markets in North America, Europe, Asia, and the Middle East and Africa (LAMEA) are broken down and examined separately.
By Offering
By Deployment Mode
By End User
Government
Universities and Colleges
Enterprises
Online Voting System Market: Competitive Analysis
The global Online Voting System market is dominated by players like:
Votebox
Skypunch Technology Inc
nVotes
ezvote
ElectionBuddy Inc
BallotReady
Smartmatic
Democracy Live Inc
Hart InterCivic Inc
benel Solutions
Dominion Voting Systems Corporation
Clear Ballot Inc
Australian Electoral Commission
Avante International Technology Inc.
Votem Corp
Insightrix Research Inc
POLYAS
Online Voting System Market: Regional Analysis
Over the forecast period, the Asia-Pacific region is anticipated to account for the highest share of the market for online voting systems. Many sectors, including government, in the Asia–Pacific region are undergoing a digital transformation. Governments are exploring the use of online voting technologies as part of their efforts to modernize and streamline election operations. For instance, between 2014 and 2019, India's digital economy developed at a rate of 15.6%, which is 2.4 times the country's overall economic growth, as determined by the secondary research. In addition, rising levels of public consciousness are expected to be a major driver of market expansion over the projection period. Governments and non-profits are initiating initiatives to raise awareness of the benefits of voting online. Public confidence can be increased by informing people about the safety measures being taken. As a result, this is viewed as a key factor that will propel the regional market forward during the forecasted time frame.
Online voting is becoming increasingly popular in the academic, political, and business communities, making North America a likely market leader over the next few years. The widespread adoption of blockchain technology also contributes to the expansion of the market. Several jurisdictions in North America may adopt blockchain technology to safeguard electronic voting. Blockchain technology might be used to create an immutable voting record.
By Region
North America
Europe

France
The UK
Spain
Germany
Italy
Rest of Europe

Asia Pacific

China
Japan
India
South Korea
Southeast Asia
Rest of Asia Pacific

Latin America

Brazil
Mexico
Rest of Latin America

Middle East & Africa

GCC
South Africa
Rest of Middle East & Africa
https://www.linkedin.com/pulse/impact-us-education-market-size-2023-edtech-the-technoiva/
https://www.linkedin.com/pulse/digital-gaussmeters-market-trends-technologies-2023-the-technoiva
https://www.linkedin.com/pulse/impact-wearable-technology-market-revolutionizing-the-technoiva