According to a recent analysis by Zion Market Research, the global healthcare cloud infrastructure market size is projected to reach USD 193.45 billion by 2030. From 2023 to 2030, the market is anticipated to grow at a CAGR of 16.71%. Growing healthcare digitization, soaring costs, overburdened health systems, expanding data silos, rising network traffic, and the advent of remote work all contribute to the demand for healthcare cloud infrastructure systems and solutions. Businesses are increasingly using hybrid cloud models to integrate different operations and services in a multi-cloud setting, which improves facility management. Furthermore, these cutting-edge computing solutions allow organisations to manage data reliably and securely, thereby enhancing both operational and therapeutic outcomes for patients.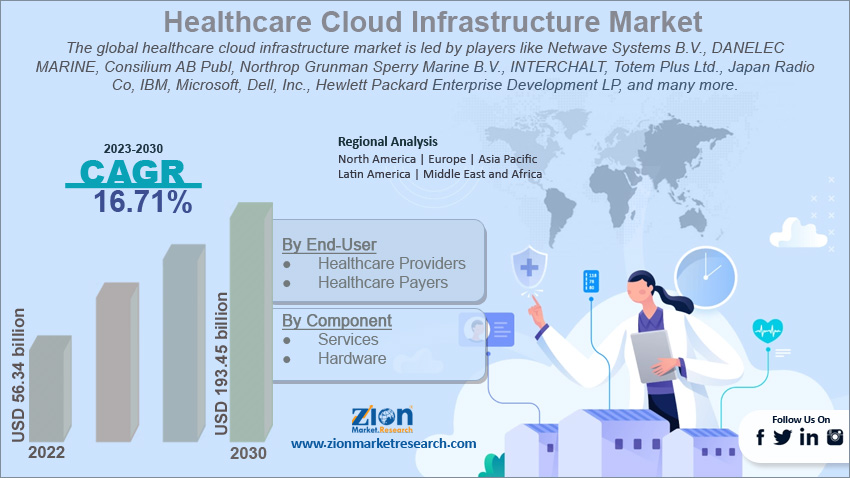 Rising initiatives by healthcare providers to improve the way in which medical emergencies are handled speak well for the global healthcare cloud infrastructure market. When COVID-19 struck and most hospitals and medical centres lacked the resources necessary to provide care to patients remotely, the idea gained momentum. For instance, HCA Healthcare, a US-based healthcare facilities operator, and Google Cloud formed a partnership in April 2022 to share vital patient data. Details such as the number of available and used intensive care unit (ICU) beds, as well as the total number of positive, negative, and pending final results from Covid tests, were included. Information on ventilator use and supply as well as discharged patients was also included. The SADA system was in charge of operating the platform. Efforts have been made to improve the world's medical infrastructure by organisations like the World Health Organisation (WHO) and similar regional organisations.
In 2022, the services segment led the market because it was simpler to outsource these services to vendors than it was for healthcare organisations to develop in-house competence in this area. Market expansion is facilitated by the increased adaptability, scalability, and data security afforded by modern computing systems to these businesses. Software as a service (SaaS), infrastructure as a service (IaaS), and platform as a service (PaaS) are all part of the cloud infrastructure sector. An rise in demand for hardware platforms with increased computational power is expected to drive significant growth in the hardware industry throughout the projected period.
However, in 2021, the healthcare providers' end-use segment led the market due to the many benefits offered by advanced computing systems, such as safe off-site data gathering and management and the availability of IT solution outsourcing. Due to the rising use of smart computing systems in risk assessment, secure data collecting, fraud detection, storage, and claim settlement, the healthcare payers segment is anticipated to develop at the quickest rate throughout the projection period. In 2021, North America's market share was the highest because to the region's superior IT infrastructure, higher IT spending, and preponderance of industry leaders. The prevalence of niche start-ups in the Asia-Pacific area is also expected to increase demand.
Healthcare Cloud Infrastructure Market: Competitive Analysis
The global healthcare cloud infrastructure market is led by players like:
Netwave Systems B.V.
DANELEC MARINE
Consilium AB Publ
Northrop Grunman Sperry Marine B.V.
INTERCHALT
Totem Plus Ltd.
Japan Radio Co
IBM
Microsoft
Dell Inc.
Hewlett Packard Enterprise Development LP
The global healthcare cloud infrastructure market is segmented as follows:
By End-User
Healthcare Providers
Healthcare Payers
By Component