Therapeutic Bed Market: Overview
A new analysis from Zion Market Research projects that the global therapeutic bed market will grow from its 2022 valuation of $11.8 billion to its 2030 valuation of $20.6 billion, a compound annual growth rate (CAGR) of almost 8.9%.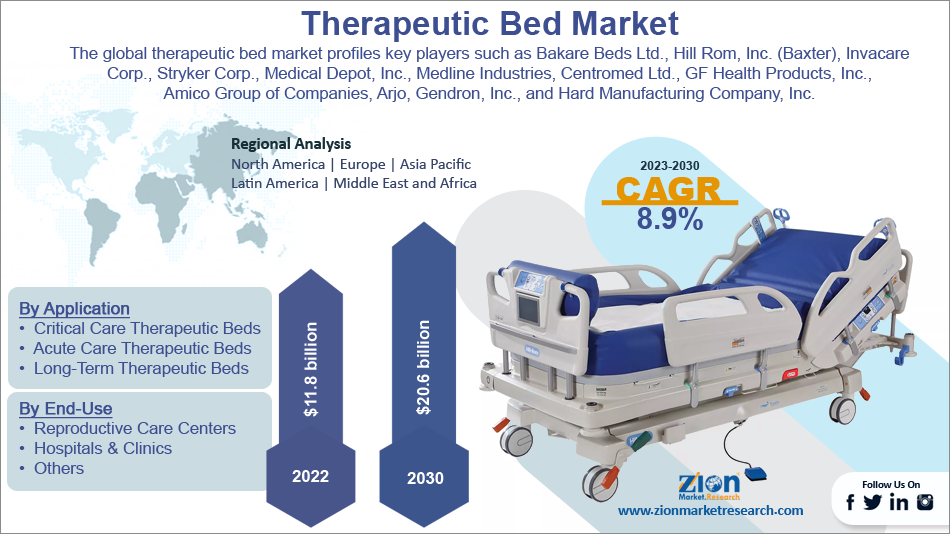 The market is being driven by the rising incidence of chronic disorders, including cancer, heart disease, neurological disorders, kidney disorders, and others, as well as the expanding geriatric population. As per the World Health Organization (WHO), the prevalence of chronic illnesses witnessed a significant surge of 57% in the year 2020. This development is expected to drive the growth of the market in the coming times. The unprecedented COVID-19 outbreak of 2020 resulted in a substantial surge in the demand for therapeutic beds.
The outbreak of the pandemic has led to a surge in the need for emergency supplies, medicines, and medical equipment, including ventilators and hospital beds. This is primarily due to the rise in hospital admissions observed during this period. Furthermore, companies are implementing various tactics, including partnerships and the introduction of novel products, to support healthcare professionals. The therapeutic bed market is poised for significant growth in the coming future.
In addition, healthcare systems worldwide face a prevalent and substantial economic burden in the form of pressure injuries. The U.S. healthcare system, for instance, incurs a cost of over USD 23.50 billion annually due to this issue. In response to the growing need for pressure injury prevention, several manufacturers have introduced a range of solutions. These include specialized beds, therapeutic mattresses, and repositioning aids, all designed to alleviate the pressure on vulnerable areas of the body and reduce the risk of injury. In addition, the COVID-19 pandemic has resulted in a significant surge in the need for pressure relief beds and mattresses in medical facilities and rehabilitation centers. The aforementioned factors are anticipated to drive the growth of the market during the projected timeframe.
Therapeutic Bed Market: Competitive Space
The global therapeutic bed market profiles key players such as:
Bakare Beds Ltd.
Hill Rom Inc. (Baxter)
Invacare Corp.
Stryker Corp.
Medical Depot Inc.
Medline Industries
Centromed Ltd.
GF Health Products Inc.
Amico Group of Companies
Arjo
Gendron Inc.
Hard Manufacturing Company Inc.
The global therapeutic bed market is segmented as follows:
By Product
Clinical Beds
Household Beds
By Application
Critical Care Therapeutic Beds
Acute Care Therapeutic Beds
Long-Term Therapeutic Beds
By End-Use
Reproductive Care Centers
Hospitals & Clinics
Others
By Region
North America
Europe

France
The UK
Spain
Germany
Italy
Rest of Europe

Asia Pacific

China
Japan
India
South Korea
Southeast Asia
Rest of Asia Pacific

Latin America

Brazil
Mexico
Rest of Latin America

Middle East & Africa

GCC
South Africa
Rest of Middle East & Africa
Source: Zion Market Research