Disabled & Elderly Assistive Technologies Market Size Overview: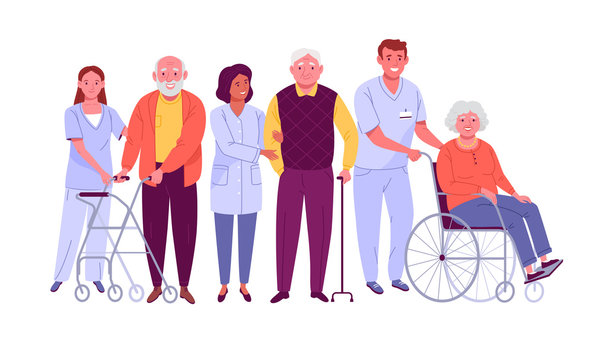 Disabled and Elderly Assistive Technology Market Size is anticipated to be around US$ 34.18 billion by the year 2030, with growth rising at a CAGR of 5 percent from 2022 to 2030.
Assistive technologies for the disabled and the elderly consist of a number of different gadgets, and its overarching goal is to improve the quality of life and accessibility to healthcare for disabled and elderly people. In addition, this collection of technologies includes apparatuses that could be of use to members of the population who are not completely independent. The elderly people can benefit from this technology by having an easier time listening, reading, moving about, and performing other day-to-day tasks.
To better the lives of handicapped and elderly people, assistive technologies are used in conjunction with gadgets and software solutions to reduce their need on caregivers and enhance their quality of life. Assistance technologies encompass both hardware and software.. Traditional disability aids like hearing aids, wheelchairs, and vision aids are available, as are more modern solutions that help impaired people gain greater autonomy, security, and inclusion in society. Elderly populations, growing healthcare expenses and technological advancements are fueling the market's growth. Assistive gadgets may now be linked to healthcare networks, facilitating the transition to home-based treatment. More and more, assuring equipment may send alerts to emergency agencies and/or family members in the event of a problem.
| | |
| --- | --- |
| Report Scope | Details |
| Market Size in 2021 | USD 22.07 Billion |
| CAGR | 5% from 2022 to 2030 |
| Revenue Forecast by 2028 | USD 30.85 Billion |
| Base Year | 2021 |
| Forecast Data | 2022 to 2030 |
| Companies Covered | Drive Medical, GN Resound Group, AI Squared, Invacare, Pride Mobility Products Corporation, Siemens Ltd., Nordic Capital, Sonova Holding AG, Starkey hearing technologies, William Demant Holding A/S |
Opportunities, Challenges, and Influencing Factors
The rise in the geriatric and handicapped population, changes in lifestyle, the availability of disabled and elderly helpful goods, and the rise in demand for assistive technologies owing to the development in trend of independent living are the primary factors driving the worldwide market for assistive technologies for the crippled and old.
In addition, the expansion of the number of producers of assistive devices that participate in research and development activities of these technologies is a primary driver of market growth. However, the expansion of the industry is hindered by factors such as the high cost of only a few highly advanced devices, a low degree of acceptability for these goods in developing nations, and limited reimbursement from medical insurance providers.
On the other hand, an increase in people's proactivity and a rise in the value placed on improved health conditions are projected to give profitable potential prospects for the market's expansion.
Disabled and Elderly Assistive Technology Market Regional Analysis
North America dominated the Disabled and Elderly Assistive Technology Market in 2020. The North American aged and handicapped assistive devices market is driven by non-communicable illnesses, a large geriatric population, and rising healthcare costs. In 2017, 17.6 million individuals had trouble walking a quarter mile and 38.2 million had physical functioning issues, according to the CDC. The US senior population might reach 95 million by 2050. Several prominent producers in North America and increased investments in technologically superior handicapped assistive devices have boosted market growth.
Asia Pacific is predicted to be the most profitable market. Huge population, quickly expanding senior population, rising frequency of non-communicable illnesses, rising road traffic accidents, and rising healthcare spending are projected to drive the Asia Pacific elderly and handicapped assistive devices market. WHO: 93% of road accidents occur in low- and middle-income countries. By 2050, 80% of the world's geriatrics will live in low- and middle-income nations. Several prominent manufacturers in China provide inexpensive handicapped assistive equipment, which should boost market growth.
Disabled & Elderly Assistive Technologies Market Key Segments:
Product
Mobility Assistance Aids

Wheelchairs
Mobility Scooters
Crutches & Canes
Patient Mechanical Lift Handling
Walkers & Rollators
Others

Assistive Furniture

Medical Beds
Riser Reclining Chairs
Railings & Bar
Door Openers
Others

Bathroom Safety & Assistive Products

Commodes Chairs
Shower Chairs
Ostomy Products
Others

Communication Aids

Speech & Writing Therapy Devices
Hearing Aids

Canal Hearing Aids
Receiver-in-the-Ear (RITE) Aids
Cochlear Implants
Behind-the-Ear (BTE) Aids
Bone Anchored Hearing Aids (BAHA)
In-the-Ear (ITE) Aids

Vision & Reading Aids

Reading Machines
Video Magnifiers
Braille Translators
Others
End User
Hospitals
Elderly Nursing Homes
Homecare
Others
Region
North America
Europe

Germany
France
UK
Italy
Spain
Rest of Europe

Asia-Pacific

Japan
China
India
Australia
Rest of Asia-Pacific

LAMEA

Brazil
Turkey
Saudi Arabia
South Africa
Rest of LAMEA