The increased number of surgical procedures, rising awareness about adhesion-related issues, and developments in medical technology have all contributed to the expansion of the worldwide adhesion barrier market in recent years. Preventing adhesion formation, decreasing patient discomfort, and enhancing surgical outcomes are all significantly aided by adhesion barriers. The global adhesion barrier market is examined in detail in this study, which covers such topics as market trends, drivers, challenges, and opportunities.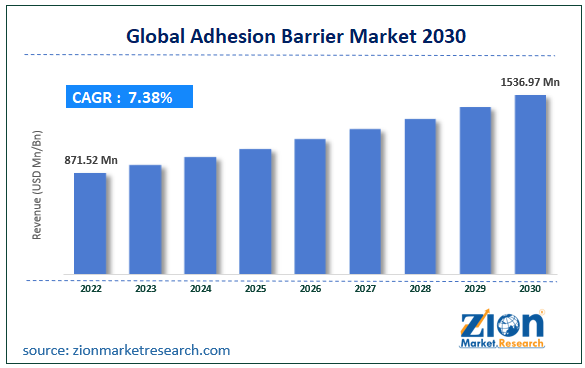 It is projected that the global adhesion barrier market will expand rapidly over the next few years. The growth of treatments with a high risk of adhesion development is the primary factor propelling the market. These include abdominal, gynaecological, and orthopaedic surgery. The benefits of adhesion barriers are becoming increasingly well-known among medical experts, and this is helping to drive the market.
Key Market Drivers:
Rising Surgical Procedures: The increasing number of surgical interventions, driven by factors such as aging population, chronic diseases, and technological advancements, is boosting the demand for adhesion barriers. Surgeries involving organs or tissues in close proximity are particularly prone to adhesion formation, driving the need for effective prevention measures.
Growing Awareness and Adoption: There is a growing recognition among healthcare professionals about the complications caused by adhesions, including pain, bowel obstruction, infertility, and increased surgical complexity. This has led to increased adoption of adhesion barriers during surgical procedures to minimize the risk of adhesion-related complications.
Technological Advancements: Advances in material science and medical technology have resulted in the development of more effective and biocompatible adhesion barriers. Improved formulations, such as films, gels, and sprays, provide better coverage, ease of application, and reduced side effects, driving their adoption in surgical settings.
Market Challenges:
High Cost: Adhesion barriers can be relatively expensive, especially the newer and more advanced formulations. The high cost of these products may limit their adoption, particularly in resource-constrained healthcare settings.
Stringent Regulatory Requirements: Adhesion barriers are classified as medical devices and are subject to stringent regulatory requirements in various regions. Obtaining regulatory approvals and complying with the necessary standards can be a time-consuming and costly process, impacting market entry for new players.
Market Opportunities:
Emerging Economies: Developing countries are witnessing a surge in healthcare infrastructure development, along with increased access to surgical procedures. This presents significant growth opportunities for adhesion barrier manufacturers to expand their market presence in these regions.
R&D Investments: Continued investments in research and development activities by market players aim to develop advanced adhesion barriers with enhanced efficacy and reduced side effects. These innovations will likely open new avenues for market growth and differentiation.
Minimally Invasive Surgeries: The growing adoption of minimally invasive surgical techniques, such as laparoscopy and robotic-assisted surgeries, provides a promising market opportunity for adhesion barriers. These procedures often involve smaller incisions and reduced tissue trauma, making the prevention of adhesions even more critical.
Some of the key market players operating in the adhesion barrier market include:
Johnson & Johnson,
Atrium Medical Corporation
Medtronic Plc.
Integra Lifesciences Corporation
FzioMed Inc.
Sanofi Group
Getinge AB
Baxter International Inc.
C. R. Bard, Inc.
Anika Therapeutics Inc.
MAST Biosurgery AG.
Global Adhesion Barrier Market: Segment Analysis
By Product
Synthetic Adhesion Barriers

Hyaluronic acid
Regenerated cellulose
Polyethylene glycol
Others

Natural Adhesion Barriers

Collagen & Protein
Fibrin
By Formulation
By Application
Gynecological Surgeries
Abdominal General Surgeries
Orthopedic Surgeries
Cardiovascular Surgeries
Neurological Surgeries
Urological Surgeries
Others