The global e-cigarette market size was worth around USD 18.32 billion in 2022 and is predicted to grow to around USD 46.98 billion by 2030 with a compound annual growth rate (CAGR) of roughly 12.49% between 2023 and 2030.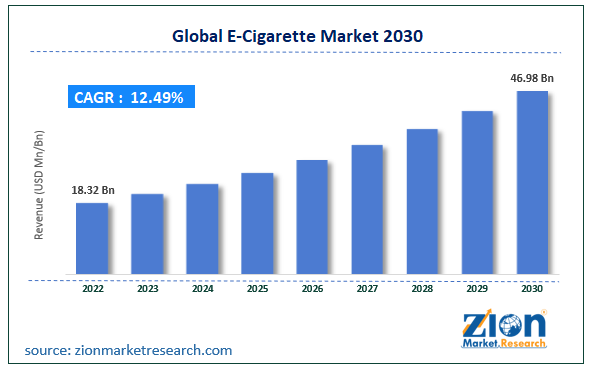 The inhalation of vapor rather than smoke is what makes an electronic cigarette so convincing as a substitute for traditional cigarettes. When heated, the liquid solution (which may or may not contain nicotine) in the device becomes vapor, which the user then inhales in place of smoke. Smokeless, pollution-free, and presenting less health risks than conventional cigarettes, this gadget has gained acceptance as a viable alternative to tobacco products. The growing awareness of the hazards of tobacco use, the reduced inhalation of tar and carbon monoxide from electronic cigarettes, rising incomes, and technological advances made by electronic cigarette manufacturers all contribute to the industry's expansion.
Many medical organizations and associations have done studies showing that electronic cigarettes are safer than regular cigarettes. This is expected to increase public awareness and drive sales. Manufacturers' flexibility in offering varying temperature settings and nicotine strengths is also expected to boost product demand. In addition, newer forms of electronic cigarettes, including as pod systems and squonk mods, have seen a rise in both interest and use in recent years.
In an effort to increase sales during the COVID-19 epidemic, e-cigarette and vape product manufacturers have developed a number of marketing strategies centered around the virus. As more people look for healthier options to smoking, the market for vaping devices and e-cigarettes is likely to grow throughout the forecast period. When stores ran out of e-cigarettes and vaping devices, vendors started posting their wares online and offering freebies like hand sanitizers and face masks to entice customers to make purchases. Changes to e-cigarettes and vaping in 2017 include new flavors and more efficient devices. You may get these in a wide range of flavors, from menthol to tobacco to fruits and nuts to chocolate.
Different product categories, flavors, sales channels, and geographical regions make up the worldwide electronic cigarette market. The global market for disposable, rechargeable, and modular products is segmented according to product type. The market for electronic cigarettes features a wide variety of flavors, including tobacco, botanical, fruit, sweet, and beverage. The global electronic cigarette market is split into several subsets based on the various channels via which they are sold. Markets in North America, Europe, Asia, and the Middle East and Africa are all considered.
The global market is segmented into three major groups: disposable, rechargeable, and modular.The most popular type of electronic cigarette is the modular variety since it can be refilled and the user can control the amount of electricity sent from the system's battery to the atomizer. Therefore, during the projection period, manufacture of electronic cigarette products is anticipated to be the most lucrative sector.
Tobacco, botanical, fruit, sweet, beverage, and others are the main flavor categories that make up the market. Adding tobacco flavoring to e-liquid makes tobacco products more appealing and less harmful, attracting new users. Instead of getting the burnt taste and ashy smell of cigarettes, you get the authentic flavor of tobacco with tobacco-flavored e-liquid. Nicotine levels in flavored tobacco products are governed by the FDA.
The global electronic cigarette industry is segmented into several subsets based on the various distribution channels via which its products may be purchased. The most common way to acquire electronic cigarettes is still through traditional retail channels. Customers are reassured by e-cig experts while making their first purchase so they may learn more about the product. There is a wide variety of electronic cigarette devices and accessories available at e-cigarette specialized stores.