Agricultural products including grains, silage, haylage, and other forage crops are stored and protected in silo bags, often known as grain bags or silage bags. They can be used as an alternative to silos, bins, and storage facilities.
With a CAGR of roughly 6.61% between 2023 and 2030, the global silo bags market is expected to expand from a value of around USD 390 Million in 2022 to a value of around USD 921 Million by 2030.
The standard dimensions for silo bags are 8 to 14 feet in diameter and 30 to 300 feet in length. They are constructed with UV- and tear-proof, puncture-resistant high-quality polyethylene. The crop's quality and nutritional content are maintained since the bags are airtight, producing an anaerobic environment.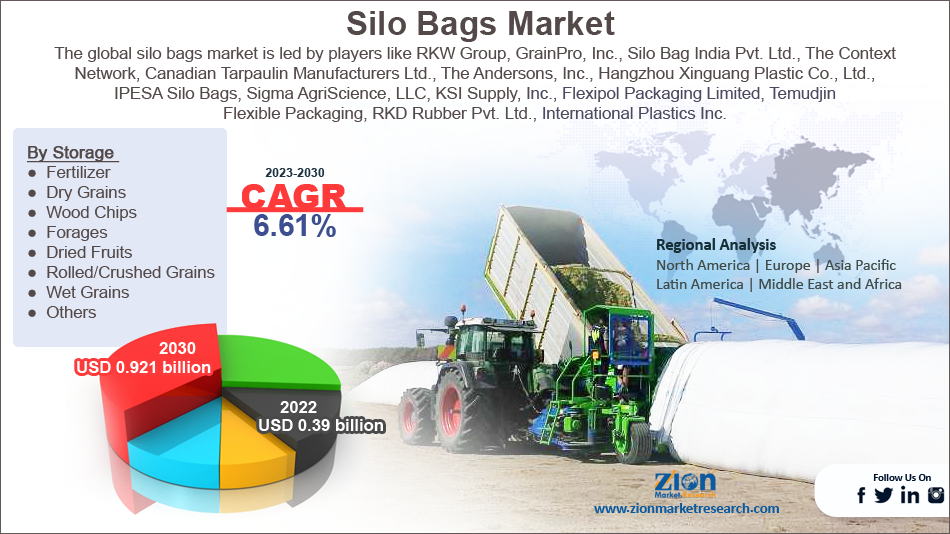 Filling a silo bag entails securely fitting the crop into the bag and then sealing the bag. Filling and packing the crop into the bag requires a specialized machine known as a bagger, and extracting the crop from the bag requires yet another specialized machine known as an extractor.
Market expansion will be spurred by the rising demand for food.
Due to rising demand for food all over the world, the worldwide silo bags market is expected to expand in the next years. The United Nations (UN) estimates that the global population will reach over 9.5 billion by the year 2050, up from the current 8 billion. The increasing global population puts a heavy burden on the agriculture industry because food is a fundamental human need. Private businesses and government organizations have begun a number of programs to increase access to affordable, nutritious food for all people.
Silo bags are widely sought after in the agricultural industry because of how effectively they prevent the food within from being harmed by environmental conditions. In addition, there is a severe lack of storage facilities for farmers, and silo bags can serve as a great storage option at a low cost, encouraging more production and more consumption.
Silo Bags Market Segmentation
Bag capacity divides the global market into two distinct subsets: below and over 2000 mt. Silo bags with capacities above 2000 mt saw the biggest expansion in 2022 because these bags are typically utilized for the industrial-scale storage of grains, rice, corn, and soybeans. More money can be made from selling these bags to businesses rather than individuals or smaller agricultural operations because of their greater commercial applications. These bags allow for the long-term storage of massive quantities of grain for human use. Smaller businesses and individual farmers often make use of silo bags with a capacity of less than 2,000 metric tons. Wheat production in Russia was anticipated at 85 MMT and barley production at 13 MMT in 2020 by the United States Department of Agriculture (USDA).
Fertilizer, dry grains, wood chips, forages, dried fruits, rolled/crushed grains, wet grains, and others make up the different segments of the worldwide silo bags market. Dry grains including corn, wheat, rice, soybeans, and barley are the most typical products kept in silo bags. These goods are then put to use in the manufacturing of consumables, animal feed, and basic materials for industry. Silo bags are extremely cost-effective in this situation since they preserve food's nutritional value while extending its shelf life. As a result, they provide fantastic options for storage for both farmers and businesses. According to the United Nations' Food and Agriculture Organization (FAO), over 25% of the world's food output is lost or wasted annually owing to variables like moisture, pests, and other causes.
Rapid expansion is expected in North America.
North America, with the United States as the dominating nation, is anticipated to have the greatest growth rate in the worldwide silo bags market. When it comes to grains like corn, soybeans, and wheat, the United States is a major player in the global market. It's possible that the production and consumption of silo bags in the area will increase rapidly in response to the rising demand for space-saving and inexpensive warehousing options. Growing adoption of cutting-edge farming techniques and the consequent demand for adaptable storage solutions have made Europe a major contributor to the worldwide sector, with Germany and the United States in the forefront with the highest CAGR. It is possible that increased agricultural output in Russia, India, and China is responsible for the expansion in Asia and the Pacific. India's principal industry is agriculture, and these areas jointly export a considerable amount of food items. With a growing population, they are also seeing robust demand at home.
The global silo bags market is led by players like:
RKW Group
GrainPro Inc.
Silo Bag India Pvt. Ltd.
The Context Network
Canadian Tarpaulin Manufacturers Ltd.
The Andersons Inc.
Hangzhou Xinguang Plastic Co. Ltd.
IPESA Silo Bags
Sigma AgriScience LLC
KSI Supply Inc.
Flexipol Packaging Limited
Temudjin Flexible Packaging
RKD Rubber Pvt. Ltd.
International Plastics Inc.
Global-Pak Inc.
Blue Lake Plastics LLC
PT. Delta Jaya Mas
Grain Bags Canada
RKW North America Inc.
Gaoqing Kuanbao Plastic Products Co. Ltd.
Tianjin Yingtong Metal Products Co. Ltd.
GreenBag America Inc.
Hangzhou Zon Packaging Machinery Co. Ltd.
ESKO s.r.l.
Trucent.
The global silo bags market is segmented as follows:
By Capacity of Bags
Up to 2000 mt
Above 2000 mt
By Storage
Fertilizer
Dry Grains
Wood Chips
Forages
Dried Fruits
Rolled/Crushed Grains
Wet Grains
Others