A smart coffee maker is an internet-enabled coffee machine that can be controlled from afar using a mobile device or voice-activated digital assistant, such as Amazon Alexa or Google Home. Most smart home gadgets these days are Wi-Fi enabled and can be managed by smartphone app or voice commands.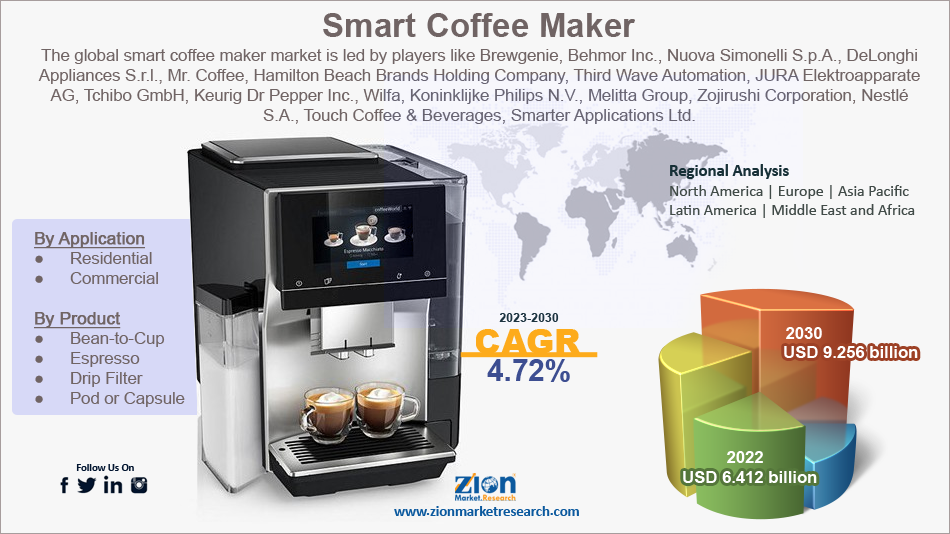 Zion Market Research estimates that the global smart coffee maker market was worth USD 6.412 Billion in 2022 and will expand to USD 9.256 Billion by 2030 at a CAGR of 4.72%.
The smart coffee maker market consists of businesses that manufacture, distribute, and sell Internet-connected coffee makers. The exponential digitalization and application of smart technology in the sector in recent years have been the primary drivers of the sector's expansion. Market leaders include Keurig, Nespresso, and Breville, but it's also home to some innovative newcomers. Most modern smart coffee makers can be controlled by a mobile app or voice assistants like Amazon's Alexa, Google Home, or Apple's Siri. Additionally, they might have features like programmable brew strength, auto shutoff, and the ability to automatically order coffee beans or other supplies. In general, the market for smart coffee makers is still rather young and has only just begun to penetrate the mainstream. However, if world governments continue their push toward greater digitalization, future growth is likely to be stronger.
Growth Factors
The market for smart coffee makers is expected to expand worldwide for a number of reasons. The numerous benefits provided by smart coffee machines are one of the primary reasons for its expansion. Scheduled coffee brewing, notifications in the event of a coffee machine shortage, and remote control are just a few of the simple and convenient features offered. The time and effort saved by these functions allows users to devote their attention to other equally important tasks. A larger expansion rate is possible, given the increasing demand for specialty coffee among consumers.
Smart coffee makers can make a wide range of delicious coffee drinks. They are versatile enough for usage in both the home and the workplace. Capacity is determined by the desired end result. Some of these machines also include built-in grinders so that consumers can have their coffee ground to their specifications in a commercial setting. Furthermore, the increased entry of new players has resulted in a fall in the overall cost of the product, which is further bolstered by the increased public awareness brought about by the players' effective marketing strategies.
There are a few growth barriers in the worldwide smart coffee maker market. The growing worries regarding connectivity issues are one of the primary causes of revenue loss. Smart coffee makers are just as vulnerable to internet disruptions as any other equipment that relies heavily on an active internet connection. Internal software bugs can likewise cause similar worries. Moreover, cybercriminals frequently target intelligent machines. They store sensitive information that could compromise their owners if hacked.
The global smart coffee maker market is segmented based on application, product, and region.
Based on application, the global market segments are residential and commercial. Currently, the industry is expected to witness the highest growth in the residential sector since it already has a dedicated consumer base in this group. The high segmental revenue is due to the growing demand for convenience and customization among consumers as well as the increasing adoption of smart home technology. In addition to this, the commercial segment is also expected to grow at a rapid rate as hotels and cafes look for measures to provide a better experience to their customers. The commercial segment growth is expected to be led by factors like the need for efficient and consistent coffee preparation, as well as the ability to track and analyze usage data for business purposes. In 2020, the European population represented over 28% of global coffee consumption.
Based on product, the global smart coffee maker market is segmented into bean-to-cup, espresso, drip filter, and pod or capsule. The industry may witness the highest growth in the espresso segment followed by pod/capsule coffee makers since currently the highest sale of smart coffee makers is observed in these segments. Espresso machines have always been a popular choice amongst regular coffee drinkers and the smart version of the coffee-making machine features automated brewing and personalized settings. Pod and capsule coffee makers provide excellent convenience and hence have grown in terms of popularity. On average, smart coffee makers can range from around $100 to $500 or more.
The global smart coffee maker market is projected to witness the highest growth in North America owing to the growing entry of new players in the regions of Canada and the USA. Both these regions are highly advanced in terms of technological growth. Furthermore, the US government and other bodies are spending heavily on the integration of small or larger devices to the internet thus promoting the adoption of smart home devices. Growing product awareness rate strengthened by rising disposable income is also crucial to regional growth.
In Europe, the market is mostly driven by the presence of a large number of regular coffee consumers along with strategic measures of the product providers with coffee cafes and hotels. The partnership provides the manufacturers a close contact with the consumer group. In Asia-Pacific, China, Japan, Singapore, South Korea, and India may lead to high CAGR owing to the growing population that is an inclination toward smart devices.
The global smart coffee maker market is led by players like:
Brewgenie
Behmor Inc.
Nuova Simonelli S.p.A.
DeLonghi Appliances S.r.l.
Mr. Coffee
Hamilton Beach Brands Holding Company
Third Wave Automation
JURA Elektroapparate AG
Tchibo GmbH
Keurig Dr Pepper Inc.
Wilfa
Koninklijke Philips N.V.
Melitta Group
Zojirushi Corporation
Nestlé S.A.
Touch Coffee & Beverages
Smarter Applications Ltd.
Krups
SMARTER Coffee Company Ltd.
Nespresso
SmarterVending Inc.
Technivorm
Bonavita BV1900TS
OXO On
Illycaffè S.p.A.
The global smart coffee maker market is segmented as follows:
By Application
By Product
Bean-to-Cup
Espresso
Drip Filter
Pod or Capsule
By Region
North America
Europe

France
The UK
Spain
Germany
Italy
Rest of Europe

Asia Pacific

China
Japan
India
South Korea
Southeast Asia
Rest of Asia Pacific

Latin America

Brazil
Mexico
Rest of Latin America

Middle East & Africa

GCC
South Africa
Rest of Middle East & Africa