Automotive seat belts have proved crucial in preventing fatalities and serious injuries in car crashes. Since its introduction, this crucial safety device has come a long way, improving to better protect passengers and boost their comfort. At a CAGR of around 5.41% between 2023 and 2030, the global automotive seat belts market size is expected to expand from a 2022 valuation of USD 13.24 Billion to a 2030 valuation of USD 20.16 Billion.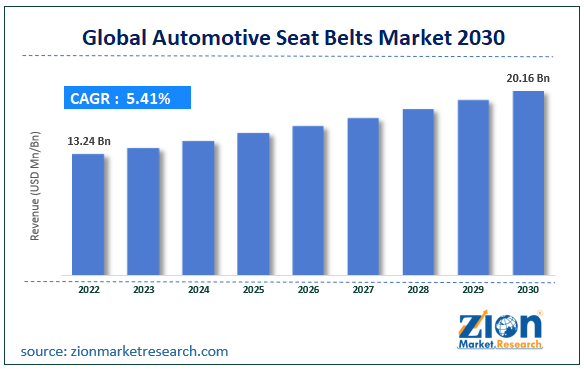 History and development of seat belts in automobiles
Early BeginningsAlthough the idea of seat belts originated in the 19th century, their widespread use in automobiles did not occur until the 20th century. Lap belts, the initial attempt at keeping passengers safe in car accidents, were originally introduced by manufacturers in the 1950s. However, early seat belts were ineffective because of their design and placement, frequently causing more harm than good.
Three-Point Seat Belts: A Revolutionary InventionThe three-point seat belt was developed in 1959 by Swedish engineer Nils Bohlin for Volvo. The revolutionary design of this device was a harness that fastened around the torso with a lap belt and a shoulder belt. The three-point seat belt greatly improved safety by spreading crash forces across the chest, pelvis, and shoulders, hence decreasing the likelihood of serious injuries and ejections. By freely licencing their patent for the three-point seat belt design, Volvo helped save countless lives throughout the world.
Mandatory Seat Belt LegislationIn the 1960s and 1970s, governments around the world began passing mandatory seat belt regulations after seeing the life-saving potential of seat belts. These regulations mandated the use of safety belts by all motorists and passengers. Increased seat belt use contributed to a precipitous drop in traffic fatalities and severe injuries.
Seat Belt Pretensioners and Load Limiters
Additional safety measures, such as airbags, were added to seat belts by car manufacturers in the 1980s and 1990s. Pretensioners in the seat belts were installed to tighten the belts before a crash, ensuring that the occupants would be held securely in place. Belts with load limiters, which gave in slightly when subjected to too much pressure, were also installed to lessen the likelihood of chest injuries.
Height-Adjustable Shoulder Belts and Seat Belt Comfort
To enhance passenger comfort and safety, height-adjustable shoulder belts were introduced. This feature allows passengers of varying heights to adjust the position of the shoulder belt for a snug and comfortable fit. Additionally, seat belt webbing made from softer materials and ergonomic designs further improved passenger comfort, encouraging greater seat belt usage.
Seat Belt Reminder Systems
As an effort to promote seat belt usage, seat belt reminder systems were introduced in the early 2000s. These systems utilize sensors to detect whether occupants have buckled up and issue audible and visual warnings to encourage compliance. Seat belt reminders have played a crucial role in increasing seat belt usage rates and reducing road fatalities.
Some of the prominent players in the global automotive seat belts market are
Toyoda Gosei
ZF TRW
Takata Corporation
Tokai Rika
Goradia Industries
Hyundai Mobis
GWR Co.
BK Seat Belt Co. Ltd
Autoliv AB
Ashimori
Joyson Safety Systems
Denso
Robert Bosch GmbH.
Global Automotive Seat Belts Market: Segment Analysis
By Airbags
Frontal Airbags
Knee Airbags
Side Airbags
Curtain Airbags
By Seat Belts
2 Points Equals
3 Point Seat Belts
By Vehicles
Passenger Cars
Light Commercial Vehicles
Buses
Trucks
By Components
Webbing Strap
Retractor
Buckle
Tongue
Pillar Loop
By Distributions Channel
Source: www.zionmarketresearch.com
Read More:
https://www.linkedin.com/pulse/report-reveals-promising-growth-neutropenia-treatment-the-technoiva/
https://www.linkedin.com/pulse/virtual-production-market-size-growth-segment-the-technoiva/