Virtual Reality
"Virtual reality" describes a method whereby a simulated setting is created in a computer. By simulating the user's visual, tactile, auditory, and olfactory experiences, virtual reality creates a wholly convincing 3D environment. Virtual reality adds realism to the experience through audio and visuals.
Using virtual reality (VR) in consumer and marketing research enables researchers to collect rich information on how respondents engage with the stimuli. The study process generates a large amount of data that may be traced back to precise moments in time. Hence, it is feasible to glean details about shoppers, such as eye tracking reactions paired in some cases down to the millisecond.
Unfortunately, there is a finite amount you can learn from data. Virtual reality (VR) can be a useful tool for the market research specialist, but it requires interpretation to be turned into actionable intel. Many inferences concerning, say, packaging and shelf placement, can be drawn from the data. Experience and knowledge are required to derive and explain the potential implications.
Virtual Reality Market Size Analysis
The size of the global market for virtual reality was estimated to be 10.85 billion US dollars in 2020, and it is anticipated that it would reach 52.03 billion US dollars by 2028, expanding at a compound annual growth rate (CAGR) of 21.9% from 2021 to 2028.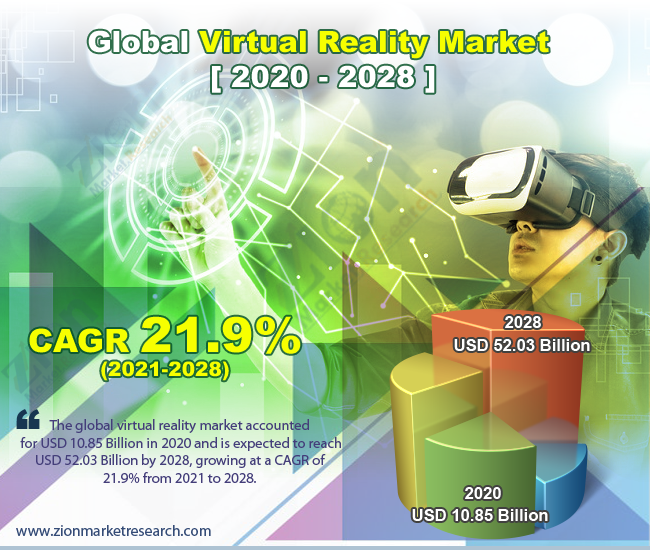 Virtual Reality Market Recent Developments
In March of 2020, thanks to collaboration between Microsoft, HP, and Valve, a new VR headset will hit the market, providing users with a more immersive and enjoyable VR experience.
In October of 2019, Microsoft plans to file a patent application for a virtual reality vibrating floor mat. The patent states that the mat will also act as a divider for the virtual reality playing space.
In December 2019, Oculus updated their Oculus Quest standalone virtual reality headset to integrate hand-tracking functionality. Facebook's newest software update for Quest v12 will contain the feature.
More and more individuals are adopting virtual reality (VR) devices for a variety of purposes, including but not limited to gaming, entertainment, education, and work. The result has been a rise in interest in virtual reality media and equipment.
Hardware improvements: Companies like Oculus, HTC, and Sony have released new and improved VR headsets with enhanced displays, higher resolutions, and more precise tracking technology.
The development and release of an ever-increasing quantity of virtual reality (VR) games has been one of the primary forces propelling the VR business forward. The virtual reality titles Beat Saber, Superhot VR, and Half-Life: Alyx are among the most played today.
Virtual reality (VR) technology is also being applied in fields like healthcare, education, and retail. Virtual reality (VR) has already found a number of applications in the medical field, including the training of medical personnel, the simulation of surgical procedures, and the relief of patient pain and anxiety.
Companies like Facebook (which owns Oculus), Sony, and Google have all made large bets on the virtual reality business in recent years.
Virtual reality (VR) experiences that allow users to connect with one another in a social setting are becoming increasingly popular. Horizon Workrooms, Facebook's virtual conference room, facilitates VR collaboration among distributed teams, and VRChat has gained popularity as a social platform allowing users to design their own virtual environments and avatars.
The global virtual reality market is segmented as follows:
By Component
By Device Type
HMDs
VR Simulators
VR Glasses
Haptic Gloves
Treadmills
Others
By Industry Type
Gaming
Entertainment
Automotive
Education
Manufacturing
Retail
Healthcare
Aerospace & Defense
Others
By Region
North America
Europe

France
The UK
Spain
Germany
Italy
Rest of Europe

Asia Pacific

China
Japan
India
South Korea
Southeast Asia
Rest of Asia Pacific

Latin America

Brazil
Mexico
Rest of Latin America

Middle East & Africa

GCC
South Africa
Rest of Middle East & Africa