Online Election Voting Software Market Overview
The online election voting software market has witnessed significant growth in recent years, with a market size of USD 293.5 Million in 2022. According to industry experts, this market is expected to continue to grow, reaching a value of USD 737.2 Million by 2030. This represents a compound annual growth rate (CAGR) of 9.9% during the forecast period.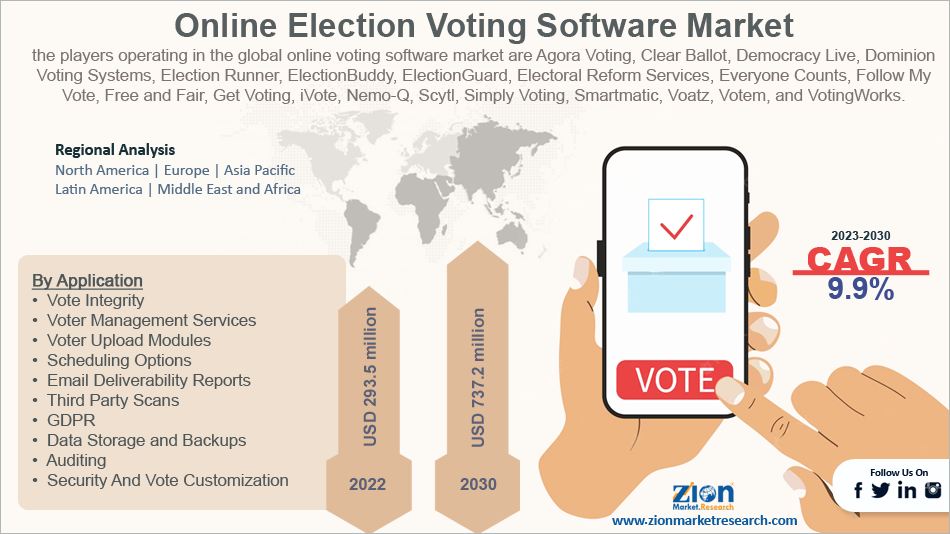 Online election voting software is a software application that enables voters to conveniently cast their ballots electronically via a web-based platform. This particular software is frequently utilized in political elections, as well as in other forms of voting, including shareholder voting and member voting for various organizations.
The standard features of online election voting software comprise of secure login options for voters, creation and distribution of ballots, and tabulation of votes. In addition to its primary functions, the software may incorporate supplementary capabilities such as authentication of voter eligibility, safeguarding against fraudulent activities and interference, and upholding the privacy and secrecy of the voting procedure.
Online election voting software offers a significant advantage by enhancing the accessibility and convenience of the voting process for voters. This is due to the fact that voters can cast their ballots from any location with an internet connection. In addition to its convenience, online voting offers the advantage of speed and efficiency over traditional paper-based voting methods. This is due to the fact that votes can be tabulated in real-time, resulting in a more streamlined and expedited process.
Segmentation
Based on offering, the market is segmented into software and solutions segment.
Based on deployment, the market is bifurcated into on-premise and cloud-based segments.
Based on voting type, the online election voting software market is segmented into Anonymous Voting, Weighted Voting, Proxy Voting, and others.
Based on voting location, the market is segmented into polling sites and remote segments.
Based on application, the market is segmented into vote integrity, voter management services, voter upload modules, scheduling options, email deliverability reports, third party scans, GDPR, data storage and backups, auditing, security, and vote customization.
Based on platform, the online election voting software industry is segmented into smartphones, PC, tablets, kiosks, and others.
Regional Analysis
The online election voting software market share was dominated by the Asia-Pacific region in 2022, and it is expected to continue growing at an exponential CAGR during the forecast period. This growth is attributed to the region's strong market presence and favorable market conditions. Online voting is becoming increasingly popular in the Asia Pacific region. The surge in digital adoption can be attributed to several factors, including the region's sizable population, rising rates of internet and smartphone usage, and a growing recognition of the advantages offered by digital solutions. Moreover, the COVID-19 pandemic has compelled numerous countries in the region to embrace digital solutions, thereby propelling the market's expansion at an even faster pace. In an effort to enhance the transparency, accessibility, and security of their elections, several governments in the region are making significant investments in online voting systems.
Key Players
Agora Voting, Clear Ballot, Democracy Live, Dominion Voting Systems, Election Runner, ElectionBuddy, ElectionGuard, Electoral Reform Services, Everyone Counts, Follow My Vote, Free and Fair, Get Voting, iVote, Nemo-Q, Scytl, Simply Voting, Smartmatic, Voatz, Votem, and VotingWorks.