Drug & Gene Delivery Systems Market Size
Over the next few years, the market for drug & gene delivery systems is expected to expand at a rapid rate. The global drug & gene delivery systems market was worth USD 483.9 Billion in 2022 and is projected to reach USD 815.6 Billion by 2030, expanding at a CAGR of 7.33% between 2022 and 2030.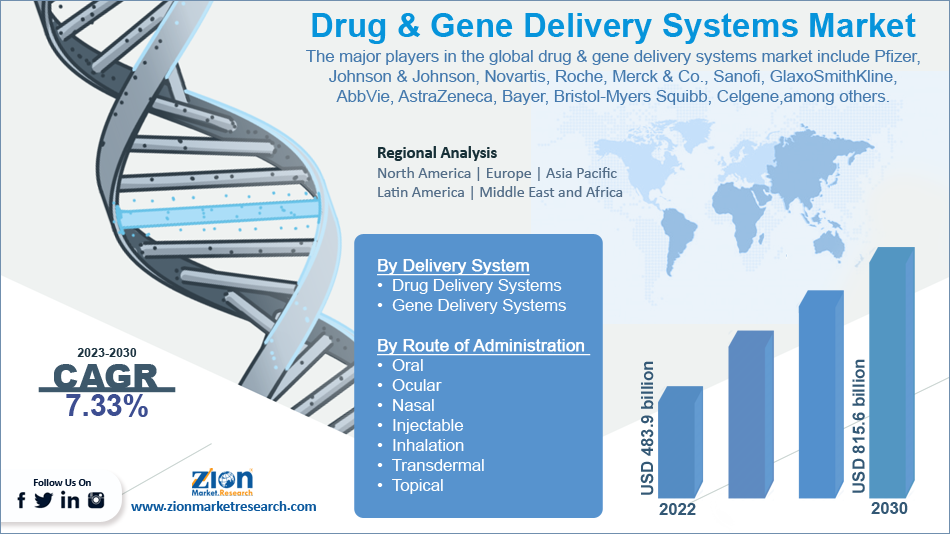 Drug & Gene Delivery Systems Market Overview
Drug and gene delivery systems are techniques that enable the targeted delivery of drugs or genetic material to particular cells or tissues in the body. The primary objective of these systems is to enhance the effectiveness of medical treatments while minimizing the risk of adverse reactions.
In the field of pharmaceuticals, drug delivery systems are commonly employed to transport therapeutic agents to specific locations within the body. These systems rely on a range of carriers, including liposomes, nanoparticles, and microparticles, to facilitate targeted drug delivery. Drug carriers have the potential to shield the medication from degradation and prolong its circulation time within the body, ultimately enhancing its efficacy. Various carriers can be formulated to selectively target particular cells or tissues within the human body.
In contrast, gene delivery systems refer to the transportation of genetic material, such as DNA or RNA, to particular cells in the body. This innovative approach has the potential to address genetic disorders and modify gene expression in targeted cells or tissues. In the field of gene therapy, delivery of genetic material to the intended site is a crucial step. This can be achieved through the use of different carriers, including viral vectors and non-viral vectors.
The advancement in drug and gene delivery systems has paved the way for the creation of highly specific and efficient treatments for various illnesses such as cancer, cardiovascular disease, and genetic disorders. Despite the progress made in the field of drug delivery, there remain several obstacles that must be overcome. These include enhancing the precision and effectiveness of delivery, reducing toxicity, and surmounting hurdles like the blood-brain barrier, particularly in the context of treating neurological disorders.
Growth Factors
Rising rates of chronic disease are a key factor propelling growth in the global medication and gene delivery systems market. Drug delivery systems with the potential to enhance therapeutic efficacy while decreasing adverse effects are in high demand due to the increasing prevalence of diseases like cancer, diabetes, and cardiovascular disease. In addition, nanotechnology breakthroughs have allowed the creation of more specific and individualized medicine delivery methods, which is fueling demand. Additionally, new opportunities have arisen for producers of drug and gene delivery systems due to the rising need for non-invasive medication administration methods like inhalation and transdermal distribution.
Regional Analysis
The global drug and gene delivery systems market is currently dominated by North America and Europe, with the United States holding the top position in North America. The Asia Pacific region is poised for substantial growth in the near future, driven by a rising need for cutting-edge healthcare services and a surge in chronic illnesses across the area.
Key Players
Pfizer, Johnson & Johnson, Novartis, Roche, Merck & Co., Sanofi, GlaxoSmithKline, AbbVie, AstraZeneca, Bayer, Bristol-Myers Squibb, Celgene, Amgen, Biogen, Gilead Sciences, Illumina, Regeneron Pharmaceuticals, Vertex Pharmaceuticals, Moderna, and CRISPR Therapeutics among others.