With a CAGR of roughly 18.5% between 2023 and 2030, the global quantum warfare market is expected to increase from a value of around USD 136 million in 2022 to around USD 528.7 million by 2030.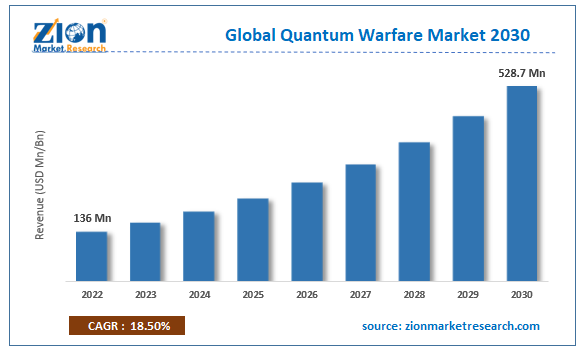 Quantum warfare (QW) refers to the utilization of quantum technology for military applications. The impact of this phenomenon extends to defense, intelligence, and security capabilities in various domains of conflict, giving rise to the emergence of novel military doctrines, tactics, and ethical quandaries. The field of quantum technology, which is currently in its nascent phase, focuses on harnessing the unique properties of specific quantum systems, including quantum entanglement, quantum superposition, and quantum tunneling, for practical applications. The military industry's growing requirement for high-performance computers is driving the market demand for quantum warfare technologies. Multiple regional administrations are considering the utilization of quantum computing technology to develop state-of-the-art defensive equipment. The implementation of this technology is expected to aid authorities in the development of precise and advanced targeting systems, thereby facilitating market growth over the projected timeframe.
Download Free Sample Report: https://www.zionmarketresearch.com/sample/quantum-warfare-market
The global Quantum Warfare market is dominated by players like:
ColdQuanta Inc
Xanadu
Airbus
D-Wave Quantum Inc.
Quantinuum Ltd.
Infleqtion
IonQ
Inc.
Quantum Computing Inc. (QCi)
Rigetti & Co. LLC.
Zapata Computing
IBM
Market Challenges
Many existing encryption methods are vulnerable to quantum computing. If not handled appropriately, widespread use of quantum technology in battle could offer major security threats, such as the disclosure of sensitive information and communications by enemies. Thus, threats to security and proliferation over the projection period constitute a significant hurdle to the expansion of the market.
Regional Analysis
North America is predicted to dominate the market.
North America is anticipated to dominate the quantum warfare market. More well-known quantum hardware, software, and service providers are driving the market. Northrop Grumman, Airbus, Honeywell International, Xanadu, and Raytheon Technologies, which are expanding through cooperation, are creating market opportunities. The strategic employment of quantum communication technology by U.S. defense authorities is also supporting commercial acceptability. Defense organizations can build a quantum-secured network architecture for future communications using post-quantum cryptography. The US leads the region's quantum warfare market, and several major companies are developing cutting-edge quantum sensing technologies for defense weapon targeting systems that improve battlefield situational awareness by providing critical information with high precision.
The global Quantum Warfare market is segmented as follows:
By Quantum Component
Sensor
Antenna
Radar
Clock
Magnetometer
Others
By Quantum Computing and Simulations
Digital Quantum Computer
Analog Quantum Computer
Quantum Simulator
By Quantum Communication
Quantum Network and Communication
Post-Quantum Cryptography
By Quantum PNT
Navigation
Positioning
Precision Timing
Geolocation
By Application
Land
Naval
Airborne
Space-Based