In a world that is becoming more networked, there is a continuing increase in the demand for IT solutions that are both effective and versatile. A KVM switch, which stands for keyboard, video, and mouse, is one solution of this kind that plays an essential part in the management of several PCs and servers. This article digs into the market for KVM switches, supplying information on its size, share, developing trends, and predicted growth prospects.
KVM switches are pieces of hardware that allow users to operate many computers or servers from a single keyboard, video display, and mouse. KVM switches are also known as keyboard video mouse switches. These devices make the maintenance of information technology infrastructure much simpler, reduce the amount of clutter, and increase productivity by enabling users to smoothly transition between several computer systems.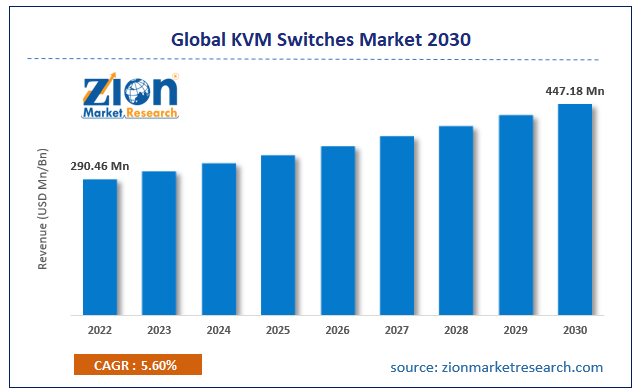 Market Size and Share
The necessity for effective control of many devices, as well as the rising complexity of IT environments, have been major factors in the recent expansion of the market for KVM switches. With a CAGR of around 5.60 percent between 2023 and 2030, the global KVM switches market is expected to increase from a 2022 valuation of USD 290.46 million to a 2030 valuation of USD 447.18 million.
Key Market Trends
Remote Management Capabilities: The COVID-19 pandemic accelerated the adoption of remote work, making remote KVM switches an essential tool for IT administrators. These switches allow remote access and management of servers and systems, enhancing operational flexibility and efficiency.
Integration with Cloud Services: KVM switch manufacturers are increasingly integrating cloud-based services into their offerings, allowing users to access and control their systems from anywhere with an internet connection.
Enhanced Security Features: In response to growing cybersecurity concerns, KVM switches now come equipped with advanced security features like encryption, multi-factor authentication, and access control to protect critical data and systems.
Support for 4K and Beyond: With the increasing demand for high-resolution displays and multimedia applications, KVM switches are now supporting 4K and even 8K video resolutions, meeting the needs of modern industries like video editing, graphics design, and gaming.
Scalability and Modularity: KVM switches are becoming more scalable and modular, making it easier for organizations to expand and customize their setups according to their specific requirements.

Market Growth Factors

The KVM switches market is poised for substantial growth, and several factors contribute to this positive outlook:

Increasing Data Center Expansion: As data centers continue to grow in size and complexity, KVM switches become essential tools for efficient management, leading to a surge in demand.
Growing Adoption of Virtualization: The rise of virtualization technologies in IT environments drives the need for KVM switches to manage virtual machines and hypervisors effectively.
Emerging Markets: Developing countries are witnessing an upsurge in IT infrastructure development, creating new opportunities for KVM switch vendors.
Technological Advancements: Continuous innovation in KVM switch technology ensures that these devices remain relevant and in-demand.
https://www.zionmarketresearch.com/sample/kvm-switches-market
KVM Switches Market: Competitive Analysis
The global KVM switches market is led by players like:
Belkin International
Vertiv
Aten Technology
Dell
IBM
Tripp Lite
Hewlett Packard Enterprise (HPE)
StarTech.com
Adder Technology
Raritan
D-Link
IOGEAR
Avocent
Cisco Systems
Black Box
Within the larger IT market, the KVM switches market is one of the most active and expanding subsets. KVM switches, which place a premium on remote management, security, and support for cutting-edge technologies, are ideally suited to adapt to the changing demands of enterprises and other organizations. The need for KVM switches is expected to grow as the IT industry develops new products to fulfill the needs of the modern era.