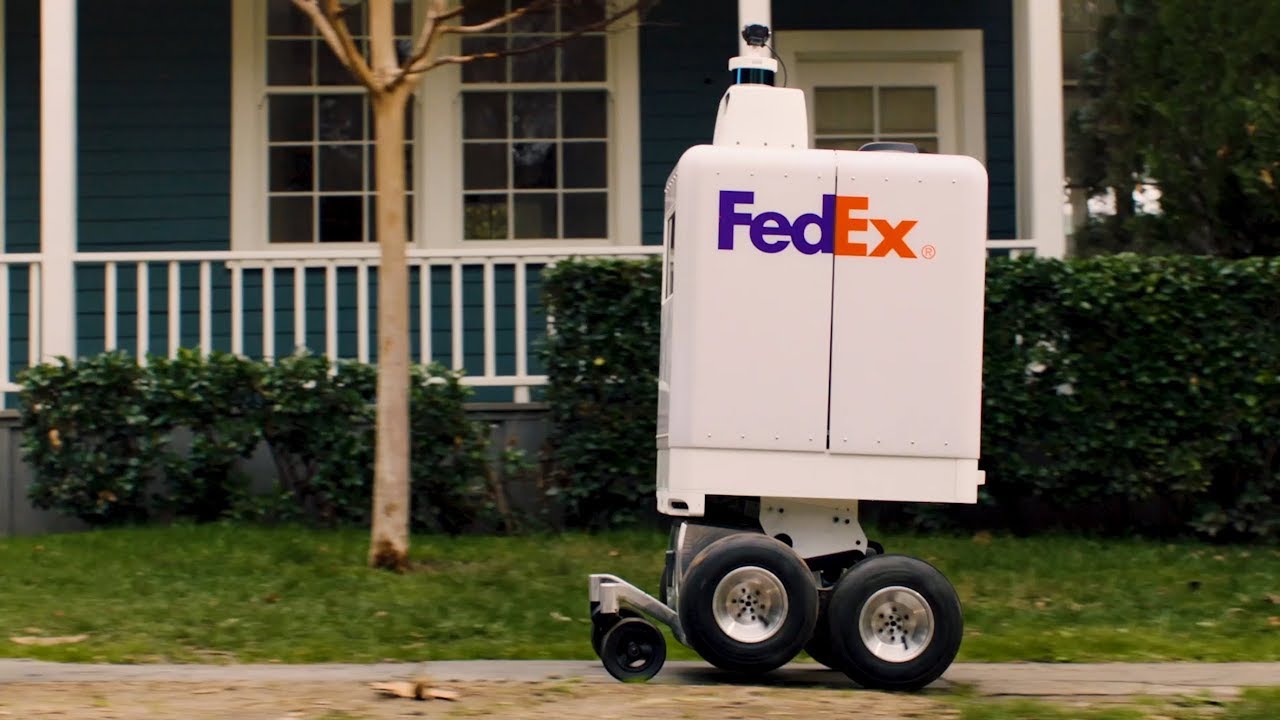 FedEx has cancelled plans to create last-mile delivery robots. As of 2019, FedEx has collaborated with DEKA Research and Development Corp in New Hampshire to create a wheeled robot dubbed Roxo for last-mile deliveries. DEKA was founded by Segway inventor Dean Kamen.
However, Robotics 24/7 reports that FedEx opted to scrap the project in early October. FedEx's decision was communicated to staff via an email from Sriram Krishnasamy, the company's chief transformation officer, who detailed the company's new "DRIVE" corporate strategy.
Though the company is discontinuing its R&D efforts on Roxo because it "did not meet critical near-term value requirements for DRIVE," as Krishnasamy put it, "the project served a crucial purpose: to rapidly expand our understanding and application of robotic technology."
Roxo is a 450 pound (204 kg) package bot that stands 62 inches (1,575 mm) tall and can carry up to 100 lb (45 kg) of merchandise (45 kg). It can deliver packages to people's doors by swerving past obstacles like people and parked automobiles. Above its spherical body, it houses a 360-degree lidar sensor and 360-degree long-range cameras. A message-displaying screen is installed in the bot's front, and it is equipped with 180-degree stereo cameras and a 360-degree radar sensor around its base.
These components rest atop a battery-operated driving unit with four wheels. DEKA's iBot wheelchair base serves as the basis for this product, and it has been field-tested for millions of hours. The robot can even make its way up and over curbs and down terraced steps.
FedEx has conducted trials of Roxo in the United States, specifically in the states of Tennessee, New Hampshire, and Texas, as well as in the United Arab Emirates and Japan. Despite this, FedEx provides some insight into Roxo's fragile position in the delivery process by saying, "since autonomous last-mile delivery is one of the priciest and most complex portions of the delivery process, we are attempting to make this a cost-effective option."
Businesses are considering investing in last-mile delivery robots like Roxo in order to cut costs on previously required human labour. According to FedEx, businesses like these care about the bottom line and also want to cut down on pollution and gridlock.
FedEx said in a statement, "We remain committed to researching last mile solutions that correspond with our business strategy, and we are incredibly proud of our role in partnering with DEKA to improve this cutting-edge technology that has put it on the path to future adoption."
FedEx has made further forays into cutting-edge technology besides Roxo. In the town of Christiansburg, Virginia, FedEx and an Alphabet business called Wing have been testing out drone deliveries, however it is unclear if this initiative can survive the corporation's new corporate strategy. The BrightDrop EP1 electric pallet, which can carry up to 200 pounds (91 kilogrammes), will likely be in use by its delivery personnel. BrightDrop, a subsidiary of General Motors, has created an electric delivery truck, and FedEx was their first customer.
Testing has been disappointing for all of the delivery bots, not just Roxo. The Verge reports that Amazon is reducing the scope of its Scout delivery bot programme, which has been doing final-mile deliveries in the Seattle suburbs, as well as in Southern California, Georgia, and Tennessee.