Introduction to Dermal Fillers
Dermal fillers are injectable substances used to enhance the appearance of facial features, add volume, and reduce the signs of aging. They are commonly used to treat wrinkles, fine lines, loss of volume in the cheeks, and hollows under the eyes.
There are several types of dermal fillers available in the market, each with its own unique properties and advantages. Some of the most common types include hyaluronic acid fillers, collagen fillers, and synthetic fillers.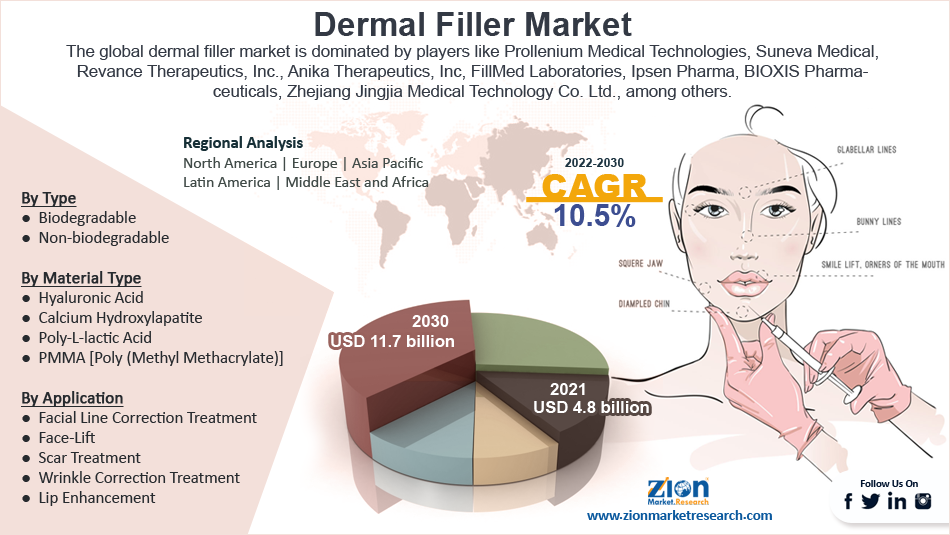 Hyaluronic acid fillers, such as Juvederm and Restylane, are popular for their natural feel and ability to attract and retain moisture, providing a long-lasting result. Collagen fillers, like CosmoPlast and CosmoDerm, are derived from animal sources and are often used for their ability to stimulate natural collagen production. Synthetic fillers, such as Sculptra and Radiesse, are made from non-animal sources and are often used to add volume to the cheeks and temples.
Benefits of dermal fillers include improved appearance, increased confidence, and a non-invasive alternative to surgery. Drawbacks may include swelling, redness, and bruising at the injection site, as well as the risk of infection and an allergic reaction.
Market Trends and Statistics
The global dermal filler market size was worth around USD 4.8 billion in 2021 and is predicted to grow to around USD 11.7 billion by 2030 with a compound annual growth rate (CAGR) of roughly 10.5% between 2022 and 2030.  The increasing demand for non-invasive cosmetic procedures, growing awareness about the benefits of dermal fillers, and the aging population are among the key drivers of market growth.
Some of the popular brands in the market include Allergan, Galderma, Merz Aesthetics, Teoxane, and Sanofi. Allergan, with its popular brands Juvederm and Botox, holds a significant share of the market. Galderma, with its portfolio of products including Restylane and Dysport, also has a strong presence in the market.
Geographically, North America dominates the market, driven by a high adoption rate of cosmetic procedures, the presence of major players, and the availability of advanced medical infrastructure. Asia Pacific is expected to grow at the fastest rate due to the increasing demand for cosmetic procedures, improving economic conditions, and rising awareness about the benefits of dermal fillers. Europe, Latin America, and the Middle East and Africa are also expected to show significant growth in the coming years.
Cost of Dermal Fillers
The cost of dermal fillers varies depending on several factors including the type of filler, the geographical location, and the clinic or provider. On average, a single syringe of a hyaluronic acid filler can cost anywhere from $450 to $800, while synthetic fillers can cost upwards of $1,000 per syringe.
Geographical location can also play a role in the cost of dermal fillers, with prices typically being higher in urban areas compared to rural areas. The type of clinic or provider can also affect the cost, with prices typically being higher in branded cosmetic clinics compared to general practitioners.
There are several factors that can affect the cost of dermal fillers, including the expertise and experience of the provider, the type and brand of filler used, and the amount of product required for the desired results. It's important to note that the cost of dermal fillers can vary widely, and it is recommended to get quotes from multiple providers to compare costs and ensure that you are getting the best value for your money.
The global dermal filler market is segmented as follows:
By  Type 
Biodegradable
Non-biodegradable
Material Type
Hyaluronic Acid
Calcium Hydroxylapatite
Poly-L-lactic Acid
PMMA [Poly (Methyl Methacrylate)]
Others
Application
Facial Line Correction Treatment
Face-Lift
Scar Treatment
Wrinkle Correction Treatment
Lip Enhancement
Others
End User
Dermatology Clinics
Hospitals
Others