The purpose of artificial saliva is to simulate the functions of real saliva. Common uses include relieving the symptoms of dry mouth brought on by things like medicine, radiation therapy, and autoimmune illnesses. Sprays, gels, and lozenges are just some of the many delivery systems for artificial saliva, which may also include substances like glycerin, xylitol, and carboxymethylcellulose. Before using artificial saliva, it's best to check with a doctor to be sure it's safe for your specific needs.
Artificial Saliva Market: Growth
The Artificial Saliva Market is expected to experience significant growth in the coming years, owing to various growth factors.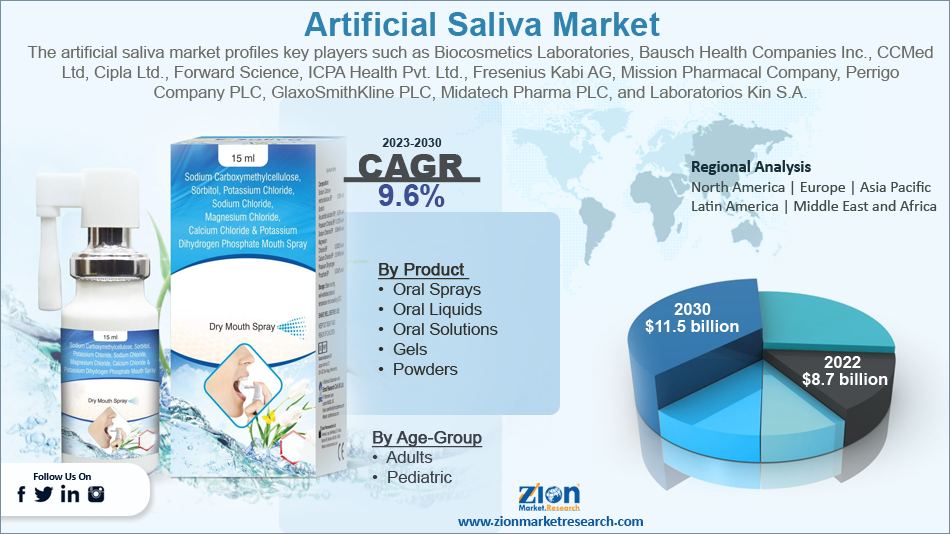 In 2022, the global market for artificial saliva was estimated at $8.7 billion; by 2030, that number is expected to rise to $11.5 billion, reflecting a compound annual growth rate (CAGR) of roughly 9.6 percent between 2023 and 2030.
The global market for artificial saliva is expected to experience significant growth due to the increasing prevalence of dry mouth syndrome, also known as xerostomia, which results in reduced saliva flow. The global market trends are expected to be propelled by the imperative need for maintaining optimal oral hygiene and regular tooth monitoring.
The global market demand is expected to witness a significant surge owing to the increasing need for an efficient mode of treating dry mouth. The demand is likely to be driven by the adoption of combination therapy or artificial saliva for restoring the normal flow of saliva. Moreover, it has been demonstrated that agents that stimulate the production of artificial saliva can effectively alleviate symptoms associated with xerostomia, thereby contributing to the growth of the market on a global scale.
In addition to the previously stated, the utilization of synthetic saliva has proven to be efficacious in mitigating dysphagia, thereby resulting in a substantial upsurge of the worldwide market. The global market has witnessed a significant surge in demand for oral sprays, oral gels, and oral liquids, primarily driven by the increasing preference of dentists for these products. The global market is expected to experience significant growth, driven by the high per capita expenditure on oral care items.
Segmentation
By Product:
Oral sprays, gels, oral liquids, oral solutions, and powders are all segments of the larger category of "artificial saliva," which is a global market.
By Distribution Channel:
Mail order pharmacies, supermarkets and hypermarkets, retail pharmacies, and hospital pharmacies are all segments of the global artificial saliva market.
By Age Group
The global market for artificial saliva is split between an adult and a child subsegment, respectively.
Regional Analysis
The global market for artificial saliva is expected to increase rapidly over the next few years, with North America playing a disproportionately large role. The rapid growth of the regional market from 2023 to 2030 may be attributable to the widespread availability of cutting-edge artificial saliva products and cutting-edge healthcare services. In addition, the large regional market expansion will be proliferated by the great purchasing capacity of customers in nations like the United States and Canada. An increase in Sjogren's syndrome diagnoses in the United States will fuel the region's rapid economic development.
However, it is expected that the artificial saliva market in the Asia-Pacific region will grow at the fastest rate of 6.3% in the coming years. Increased public understanding of effective methods for treating dry mouth in countries like China and India may contribute to the region's market growth over the forecast period. The Asia-Pacific region is poised for market growth because of the presence of several major players.
Artificial Saliva Key Players:
Biocosmetics Laboratories, Bausch Health Companies Inc., CCMed Ltd, Cipla Ltd., Forward Science, ICPA Health Pvt. Ltd., Fresenius Kabi AG, Mission Pharmacal Company, Perrigo Company PLC, GlaxoSmithKline PLC, Midatech Pharma PLC, and Laboratorios Kin S.A.
Conclusion:
In conclusion, the artificial saliva market has huge growth potential. An aging population, dry mouth condition, and increased awareness of artificial saliva products fuel demand. New and creative items are expected to fulfill consumer needs as the market evolves. The artificial saliva market is expected to grow and flourish in the future.