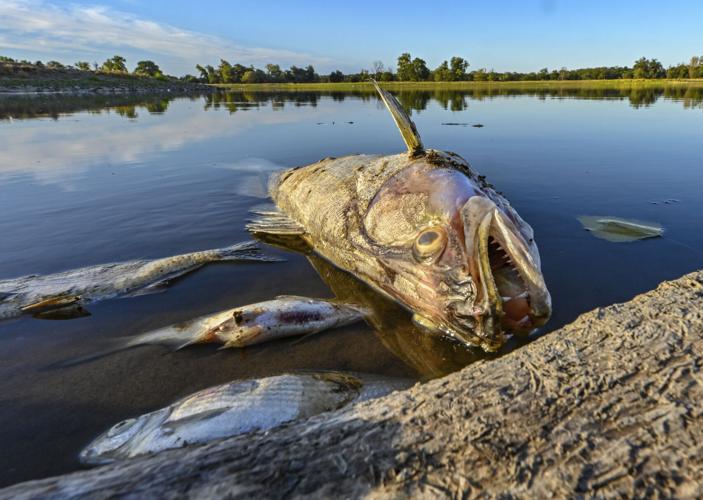 After a "ecological catastrophe," in which 10 tonnes of dead fish were discovered in the Oder River, which forms part of Poland's border with Germany, the country has sent in the military to clear up the mess.
Due to unsubstantiated claims in German media, fishermen in the city of Zielona Gora, Western Poland, said on Friday that they were suspending fishing in the river.
The cause of the fish kill is currently being investigated. Large numbers of dead fish and other animals, including beavers, were first reported in late July near the Polish town of Olawa in the country's southwestern corner.
"We are most likely dealing with a crime where a substance was introduced into the water that causes the death of fish and other organisms. This is currently being verified," Jacek Ozdoba, Poland's deputy climate and environment minister, said.
Poles on the street and in the political opposition say Prime Minister Mateusz Morawiecki's administration is dragging its feet in addressing the issue.
As of Thursday, 10 tonnes of dead fish had been hauled from the river, according to Przemyslaw Daca, the head of Polish Waters, the national water management body.
At a news conference held along the river, where officials met irate locals, he remarked, "This illustrates that we are dealing with a massive and horrible ecological catastrophe."
Wroclaw's environmental protection agency alerted local prosecutors to the possible poisoning of the country's second-longest river earlier.
Polish and Czech names for the Oder River are "Odra" and "Oder," respectively. Defense Minister Mariusz Baszczak stated Thursday that regular and reservist soldiers will be deployed to help clean up the river. It begins in the Czech Republic's Oder Mountains and travels north before reaching the Baltic.
Officials in Germany have protested that Poland violated an international agreement by not informing them of the potential contamination of the river sooner. On August 9, a boat skipper reported the dead fish in the river to German authorities.
Christopher Stolzenberg, a spokesman for Germany's Federal Environment Ministry, said, "We know that the chain of reporting that's envisaged for such circumstances didn't work."
Reporters in Berlin heard his announcement that "we finally got the communication that should have arrived from the Polish side" the day before. Nonetheless, by that time, "the pollution on the German side was already known about."
According to Stolzenberg, German officials have been in touch with their Polish counterparts to gather more information, including regarding compounds identified in the water, and offer any support that may be needed.