Incubator shakers make it easier to do many scientific and lab tasks, such as cell culture, microbial growth, chemical reactions, and controlling the temperature. This article will analyze the present state of the incubator shaker market and provide forecasts for its size, growth, and market share.
Incubator shakers are multifunctional pieces of equipment that provide a controlled environment for the growth and cultivation of diverse biological samples and chemical reactions. These shakers can control temperature and humidity as well as orbital or reciprocal motion to make a wide range of experiments possible in life sciences, pharmaceuticals, and research.
Market Size:
The global incubator shaker market was valued at USD 290.64 million in 2022 and is expected to rise to USD 395.17 million by 2030 at a CAGR of 3.92%. The market size for incubator shakers is predicted to expand as they become increasingly vital tools in laboratories, research institutions, and biotechnology companies globally. The COVID-19 pandemic also boosted demand for this kind of technology in research and diagnostic facilities, which helped the market expand.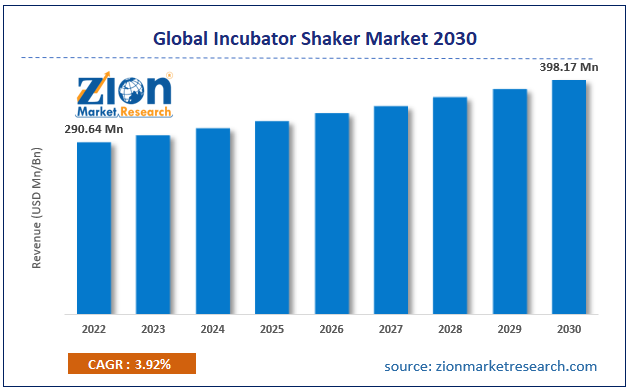 Market Trends:
1. Advancements in Temperature Control: Incubator shaker manufacturers are continually enhancing temperature control accuracy and uniformity, allowing researchers to maintain precise conditions for cell culture and other applications.
2. Integration of Digital Features: The inclusion of digital interfaces and data logging capabilities is becoming more common. Researchers can monitor and adjust parameters remotely and access data for real-time analysis.
3. Bioprocessing and Biotechnology: The growth of bioprocessing and biotechnology applications is driving the demand for advanced incubator shakers, which are essential for the production of biopharmaceuticals and vaccines.
4. Sustainability and Energy Efficiency: Increasing emphasis on sustainability and energy efficiency has led to the development of incubator shakers that consume less power and reduce the environmental footprint.
https://www.zionmarketresearch.com/sample/incubator-shaker-market
Market Share:
The Incubator Shaker market is competitive and includes key players such as
Stuart (A Cole-Parmer Company), New Brunswick Scientific (A Subsidiary of Eppendorf Group), Thermo Fisher Scientific, Memmert, Eppendorf, BMT USA, Benchmark Scientific, Boekel Scientific, Labnet International, Grant Instruments, IKA Works, Talboys, BINDER GmbH, OHAUS Corporation, Sheldon Manufacturing (A Subsidiary of Thermo Fisher Scientific), and others. These companies are focused on product innovation and global market expansion, contributing to their significant market shares.
The global incubator shaker market is segmented as follows:
By Application
Pharmaceuticals
Biofuel
Microbiology
Cell Culture
Drug Development
Bio Processing
Bacteriology
Others
By Product Type
Floor Model Shaking Incubator
Benchtop Shaking Incubator
Incubating Mini Shaker
Growth Prospects:
Expansion in life sciences, biotechnology, and research bodes well for the incubator shaker industry. The market will grow as more experiments and processes require precise and controlled conditions.
In conclusion, Incubator Shakers are fundamental instruments in research and biotechnology, offering controlled environments for various applications. The market is driven by technological advancements, digital integration, and increased demand for bioprocessing applications. As research and biotechnology fields continue to expand, the Incubator Shaker market is likely to grow, offering exciting opportunities for both manufacturers and researchers. Stay tuned for further developments in this dynamic industry.