With the presence of a large pool of participants, the global epoxy resins market is displaying a highly competitive business landscape, finds a new research report by Zion Market Research (ZMR). Kukdo Chemical Co. Ltd, Huntsman Corporation, BASF SE, Nan Ya Plastic Corporation, and Ashland Incorporation are some of the key vendors of epoxy resins across the world. These players are focusing aggressively on innovation, as well as on including advanced technologies in their existing products. Over the coming years, they are also expected to take up partnerships and mergers and acquisitions as their key strategy for business development, states the epoxy resins market study.
Citing an instance, BASF SE and Gustav Grolman GmbH & Co.KG have reinforced their partnership in Europe for marketing & branding amine-based curing agents for epoxy resins processing. Reportedly, the latter can now carry out the marketing activities of BASF's specialty chemicals, which are particularly used in epoxy-resin based applications, under its Baxxodur brand to Portugal, Italy, and Spain. For the record, since 2015, Grolman has been marketing BASF's Specialty chemicals in European countries including Germany, Ireland, Switzerland, England, Austria, Belgium, France, Finland, Denmark, Sweden, Norway, Holland, and Luxemburg for its use in epoxy resin-based applications.
Request Free Sample Research Report @ https://www.zionmarketresearch.com/sample/epoxy-resins-market
As estimated in this report, the global epoxy resins market stood at US$ 7.9 billion in 2016. Witnessing a tremendous rise during the period from 2017 to 2022, the revenue in this epoxy resins market is expected to reach US$ 11.5 billion by the end of the forecast period.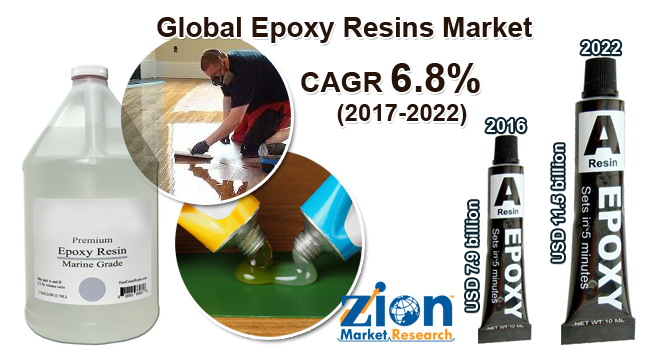 Growing Product Popularity Across Various Sectors To Impel Market Expansion
"High product demand in paints & coatings, composite materials, and adhesives is anticipated to spur the epoxy resins market size in the years ahead," says the author of this epoxy resins market study. Apart from this, growing use of the product in automotive, aerospace, marine, transport, electrical & electronic laminates, decorative powder coatings, and composites sector is expected to propel the business space over the next few years.
Oscillation in raw material costs and easy availability of substitutes such as Phenolic resins and polyurethane, however, are likely to pose challenges to the expansion of epoxy resins market over the ensuing years. Nevertheless, addition of new product to the existing product line such as launching of bio-based epoxy resins is predicted to create lucrative growth opportunities for the market in the near future, thereby, normalizing the impact of hindrances on the epoxy resins market, reports the epoxy resins market study.
Inquire more about this report @ https://www.zionmarketresearch.com/inquiry/epoxy-resins-market
Swift Infrastructural Growth & Thriving Automotive Sector To Spur Growth
Regionally, Asia Pacific has been leading the worldwide epoxy resins market and is anticipated to continue on the dominant position in the years to come, states the epoxy resins market study. Rampant infrastructural expansion and high product demand in automotive sector is the main factor behind the dominance of the Asia Pacific epoxy resins market. In addition, large-scale product application in paints & coatings and composites is another significant factor that is supporting the growth of this regional epoxy resins market.