Field Service Management Market Key Players: Coresystems AG, IFS AB, Praxedo
Zion Market Research has published a new report titled "Field Service Management Market by Solution (Work Order Management, Inventory Management, Customer Management, Mobile Field Service Management, Schedule, Dispatch, & Route Optimization, Billing, Invoicing, & Mobile Payments, and Others), by Deployment Mode (On-premises and Cloud), for Verticals (BFSI, Manufacturing, Telecom & IT, Retail, Transportation & Logistics, Healthcare, and Others) – Global Industry Perspective, Comprehensive Analysis and Forecast, 2017 – 2023". According to the report, global field service management market was valued at approximately USD 2.86 Billion in 2017 and is expected to reach approximately USD 6.68 Billion by 2023, growing at a CAGR of around 15.2% between 2018 and 2023.
Field service management is a framework for planning field tasks through a mobile workforce. At an essential level, this involves scheduling service orders, dispatching agents, and tracking vehicle locations and job status. The correct right software solution helps automate these tasks and gives mobile access through a cloud-based stage. FSM is common in various industries, however especially those that utilize mobile agents or contractors, such as waste management, utilities, broadcast communications, public sector transportation, and in healthcare. The extensive larger parts of FSM organizations are fee-for-service and offer different features and functionality that vary from one organization to another. While one organization will provide most, if not all, of the desirable features in field service management, another will miss one or up to several functions.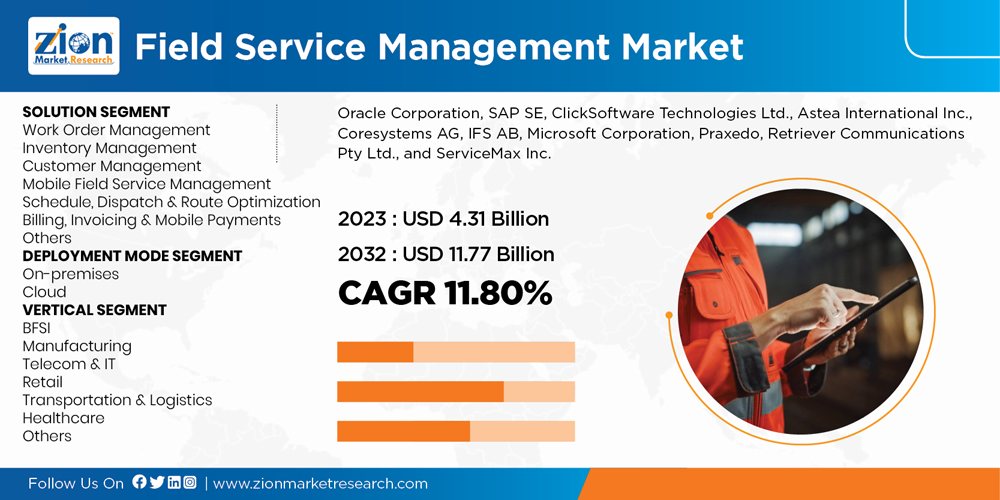 One of the significant drivers of field service management market growth is the efficient project planning. In project planning, the user comes up with a task list and schedules it with a scheduling tool like Microsoft Project and field service management that helps users to make efficient use of these tools. Growing use of wearable devices and mobile apps among field workers is further propelling the growth of global field service management market. Bring your own device (BYOD) is the technology which is widely adopted by various industries in order to maintain customer relationship. Furthermore, rising number of field operations across manufacturing, oil & gas and construction sector is driving the growth of global field service management market. FSM software enables field workers to perform pre-sales, sales, route accounting activities and more effectively interact with customers in manufacturing and other industries. Moreover, efficient work allocation for field workers is another important factor driving the growth of field service management across the globe. Field service management solution provides efficient allocation of technicians and dispatchers, with availability control and skill management. However, security concerns related to data discretion will remain the major restraint in the growth of field service management during the forecasted period.
Field service management market is segmented based on the solution, deployment mode, vertical and region. Solution segment included in this market are work order management, inventory management, customer management, mobile field service management, schedule, dispatch & route optimization, billing, invoicing & mobile payments and others. Deployment mode segment includes on-premises and cloud. The vertical segment includes BFSI, manufacturing, telecom & IT, retail, transportation & logistics, healthcare, and others. The regional segmentation includes the current and forecast demand for North America, Europe, Asia Pacific, Latin America and the Middle East and Africa with its further bifurcation into major countries including U.S., France, UK, Germany, China, India, Japan, and Brazil.
Key players profiled in the global field service management market include Oracle Corporation, SAP SE, ClickSoftware Technologies Ltd., Astea International Inc., Coresystems AG, IFS AB, Microsoft Corporation, Praxedo, Retriever Communications Pty Ltd., and ServiceMax, Inc.